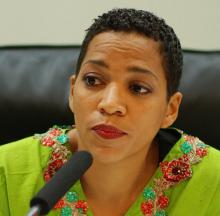 Dr Ndidi Nnoli-Edozien has 15 years experience in strategic management, corporate sustainability and responsibility, advisory services, microfinance, rural development, project design and implementation, capacity building, enterprise development, and corporate governance spanning the private sector, public sector and civil society in Africa and Europe. As the Chief Strategy Officer of Strategy and Execution Ltd, Dr Ndidi Nnoli-Edozien consulted for the Ministry of Agriculture and Water Resources on the development of the National Food Security Program (2008-2010).
Dr Ndidi Nnoli-Edozien was responsible for stakeholder consultations including organising the RAISE Nigeria Forum 2009. She has also organised and convened various international conferences including the Rural Telecommunications Conference in 2000, organized for NTCA, USAID and NCC, the Digital World Conference Africa in 2006 and the 6th Annual Forum and 48th Council Meeting of the Commonwealth Telecommunications Organisation in 2008. She has established the largest 'Bottom of the Pyramid Platform' in Nigeria, which has been managing CSR Projects for multinational corporations including Citibank, MTN, ExxonMobil, Coca-Cola, NLNG, EcoBank, VISAFONE, and public sector organizations including the Universal Service Provision Fund, the Nigerian Communications Commission (NCC) over a ten year time span, among others. GBF coordinates projects among a network of leading Microfinance Institutions and Co-operatives with a cumulative outreach to approximately 5 million entrepreneurs at the grassroots in Nigeria. Dr Nnoli-Edozien previously served as the Director of Strategy & Monitoring and Head of the CEOs Office at the Nigerian Communications Commission, and was the Founding Head (Vice President) of SecTrust Asset Management (now Afrinvest West Africa).
She holds a BSc (Economics) from the London School of Economics and Political Science (LSE), a Diploma in Catholic Social Teaching; and undertook her PhD at the Johann Wolfgang Goethe University, Frankfurt am Main, in the area of "Ownership and Management Structures" with a specific focus on the global applicability of "an African Model of Corporate Governance and Sustainability". Her status as a social entrepreneur was recognized by the Bertelsmann AG to whom she is affiliated as a Reinhard Mohn Fellow. She is also an associate member of the tt30 Club of Rome and participated in the pioneer conference of the 'Partnership with Africa' Initiative of Professor Dr Horst Koehler, President of the Federal Republic of Germany.