Submitted by

freelock

on December 8, 2015 - 2:55am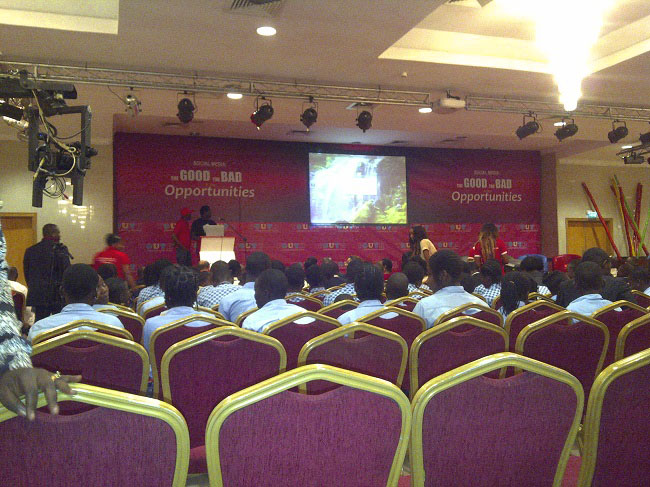 Youth Empowerment and ICT Foundation held a conference on "Social Media Awareness: the Good, the Bad and the Opportunities."
The event took place at the Civic Center on the 3rd of May, and was ''coordinated'' (as Jim Ovia put it) by Basket Mouth.
Key speakers at the event included:
Lanre Aina of Google Nigeria
Chude Jideonwo of The Future Project
Uche Pedro of Bella Naija
Malcolm Phillips, Principal of James College
Jim Ovia of Zenith Bank, amongst others
The speakers taught on the advantages and disadvantages of social media. And Jim Ovia empowered the youths by offering over 140 laptops and 1000 blackberry phones with 1 year free internet subscription to the students and youths present.
Social Media: The Opportunities
A platform to promote yourself:  The world is now a ''global hamlet'' as the founder of YNaija put it. Anything you do online can be viewed by virtually anyone, anywhere and at any time.
Mr. Lanre Aina of Google Nigeria mentioned an example of the Tofo Tofo men from Mozambique, who inspired the dance moves in Beyoncé's Run the World (Girls) video.  Americans could not duplicate those moves, so the Tofo Tofo men were taken to the United States to teach Beyonce the steps. Obviously, there is a huge opportunity for you as a young person to promote your talents and be found online.
An avenue to wealth:  Social Media is also a platform to earn, when you add real value to your followers.  Did you know some celebrities earn thousands of dollars to tweet for organizations? Kim Kardashian reportedly earns $10,000 to tweet to her 2 million fans. Gidi Traffic, the twitter handle that reports Lagos traffic, also earns a lot of money to promote companies on their twitter handle. Other success stories include Bella Naija and Linda Ikeji, both multi million naira websites.  
An information bank: Of course you know you can research anything online. Internet users continually deposit and withdraw all sorts of information all the time, using social networks like You Tube, Twitter and Facebook.
Today, there are more opportunities for you to take advantage of and succeed in any field of your choice. All the tools you require, are truly just a click away.
http://connectnigeria.com/articles/2013/05/03/youth-empowerment-and-ict-...