Submitted by

Sola Fatoba

on December 9, 2015 - 10:26am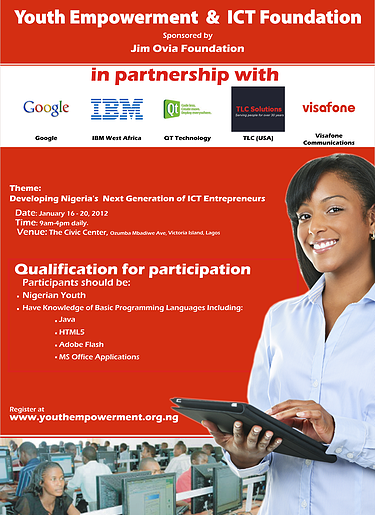 500 youths were trained by professionals on developing software mobile application for five days in 2012. This training program offered attendees practical, technical and entrepreneurship skills necessary for jobs and job creation in the emerging ICT driven market. Attendees were grouped in teams of five individuals per group. A software application business hackathon was organised and five ideas were selected for funding at the end of the five-day training.
Project Focus
Man Power Board and the Federal Bureau of Statistics of Nigeria proposes that 80% of young Nigerians are unemployed. The Nigerian society mostly depends on formal employment therefore being without a job can seem like an enforced idleness on those readily able to work.  
Furthermore, the global economic crisis, affirms the nexus between GDP and low investments into critical sectors; on one hand it explains limited employment opportunities, to unemployment levels among youths while on the other hand, the need for emerging entrepreneurs. As such, the NGIEP initiative seeks to empower budding entrepreneurs to tap into the ICT emerging market in Africa.
Project Expected Outcome
The NGIEP project intends to nurture budding entrepreneurs to their full potential over a 12 month period. Beneficiaries will be given seed funding of up to $30,000 per idea consisting of 3-5 individuals per group. Also, beneficiaries will have access to necessary training, counselling and mentorship throughout the project cycle. It is expected that between 5- 10 new ideas will be discovered and funded; impacting 50 young entrepreneurs annually.
Potential Long Term Impact
We intend to work in partnership with various organisations to promote ICT entrepreneurship by empowering young entrepreneur beneficiaries in setting up and running small to medium size businesses. It is expected that they can start to break the cycle of youth poverty in Nigeria.
Funding Information
Total Funds per idea:  up to $30,000
Disbursement method:  On a controlled need basis