Submitted by

freelock

on December 8, 2015 - 2:55am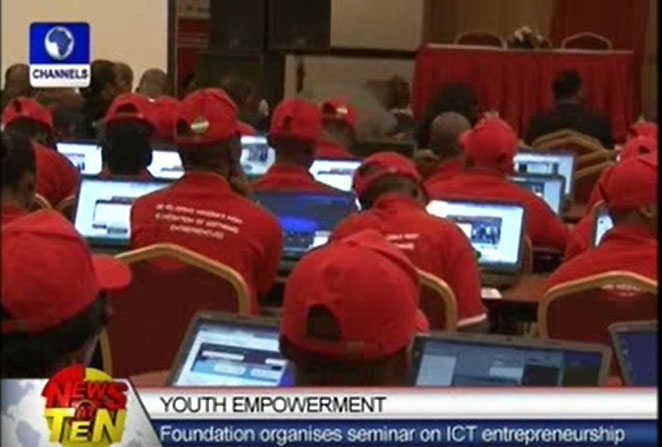 The Jim Ovia Foundation has during a week long ICT youth empowerment programme it organised in partnership with Google, IBM, Visafone, Microsoft and TLC Solutions announced a grant to the tune of N50 million for 10 most successful young Nigerians after the training held in Lagos last week.
More than 350 young people who are students of tertiary institutions of learning and young graduates participated in the programme.
Mr Jim Ovia, Chairman of Visafone and former MD of Zenith Bank told newsmen at the venue of the event during an interactive session that "10 participants who emerged successful at the end of the whole training with the best certification qualifications and best business ideas will access N5 million each to ensure that they become full blown software entrepreneurs".
The programme tagged "Developing Nigeria's Next Generation of ICT Entrepreneurs" was sponsored by the Jim Ovia Foundation in partnership with Google, IBM, Visafone, Microsoft, QT and TLC Solutions.
To qualify for participation, interested young people must be Nigerians and had knowledge of Basic Programming Languages including Java, HTML5, Adobe Flash and MS Office Applications
Google, Microsoft, QT, CNBC and IBM teamed up with the foundation to provide free software training for the 350 young people.
The provided practical training was in mobile web software, hardware, Android apps, Java, QT, CSS3 and HTML5.
According to Mr Ovia the aim of the training was to create an eco-system of advanced professional Android mobile application developers to take advantage of the emerging market in Nigeria and across Africa .
The training also covered apps for mobile marketing, gaming, e-readers, gaming advertising, VoD and sales forces.
http://nairabrains.com/2012/02/jim-ovia-foundation-awards-n50-million-gr...