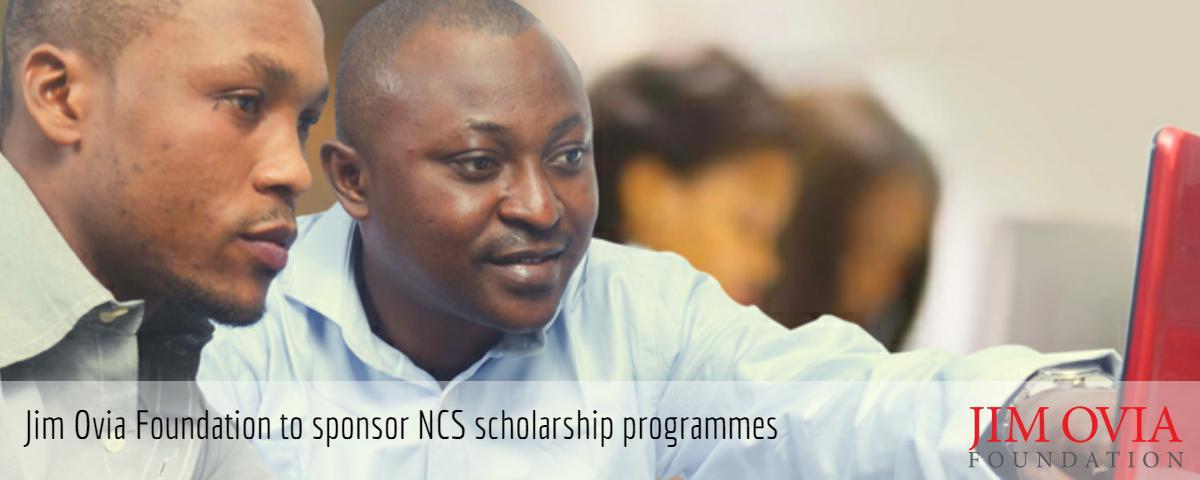 Pictured above L-R: Jim Ovia Scholars - Israel David of Theatre Arts Department, Delta State University and Festus David of Hospitality Management Department, Open University Nigeria, during the Youth/ICT programme organised in Lagos State.
 December 3, 2015 (Lagos, Nigeria)
JIM Ovia Foundation, owned by the Chairman, Zenith Bank Plc, Jim Ovia, will be solely and henceforth responsible for the sponsorhip of the Nigeria Computer Society (NCS) Scholarship Programmes for deserving members.
Ovia, who was the Chairman of the 2015 Nigeria Information Technology Award (NITMA), stated this at the occasion.
   
The NCS Scholarship Programme has been instituted by the computer society to assist members pursue critical research programmes for the betterment of the Information and Communications Technology (ICT) industry.
 
Ovia, at the event announced that the foundation will sponsor 20 Bachelor of Science, 10 Master of Science and 5 Doctorate of Philosophy candidates as originally planned by NCS, with readiness to assist more whenever the need arises.
   
He declared the readiness of Zenith Bank and Cyberspace to employ best performing candidates during the programme.
 
Ovia said that his penchant interest in youth empowerment through the ICT foundation seeks to invest in the Nigerian youths' unlimited and untapped potentials as the key to socio-economic growth.
Article Source: The Guardian Newspaper